There will always be a multitude of options to get to a city center when you arrive at a major hub airport.  Here I will give you arguably, the best way to get to the heart of Seoul from Incheon International Airport.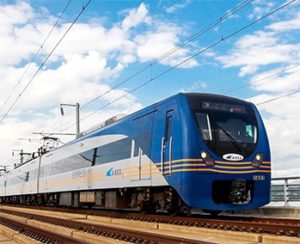 Take the Airport Railroad Express (AREX).   Upon arrival, once you've cleared customs you will see signs directing you to the lower level within the terminal.  Keep following the signs for the Airport express.  Once on the lower level you can purchase a ticket from a machine or queue up for an agent.  A one way ticket to Seoul Station will run about  14,800  W or about $12.  This is for the  Express train with zero stops between the Aiport and Seoul station.  Total travel time aboard the express is about 40 minutes .

Operating time– Express Train: Incheon Int.l Airport Station → Seoul Station 05:20 (first train) – 21:45 (last train) / interval of approx. 35 minutes
The express train is the way to go, quicker and tends to be less crowded.   When You purchase a ticket a seat number is assigned to you in case it is a full train.  It is clean, quiet and modern.  Although, like a subway there is no bathroom aboard so hit the head before leaving.   Once you have arrived at Seoul Station (main hub) you can either hop a subway to get your destination or grab a cab.  Although the subway system is immense it is relatively easy to understand if you understand Korean or English.  If you are packing heavy a taxi may be a better option.