Finally a truly waterproof backpack!
If you've ever searched for a waterproof backpack for your travels and adventures, you've likely found that the results are both scarce and pricey. What's surprising is that there are NOT more options for the traveling backpacker. You never know when you'll get caught in the rain or other elements, either on a hike or simply walking from the train station to your hotel. We all know that preparation is key.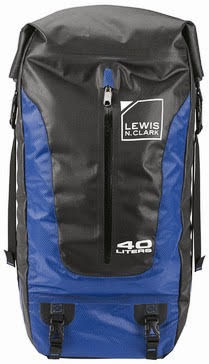 Bring in Lewis N. Clark's waterproof 40 liter pack! I picked up this backpack a few months ago and have spent quite a bit of time putting it through the paces. This top loading pack with a roll-top type closure ensures a water tight seal and this particular access point provides easy loading of gear or clothes into its main compartment. A secondary, smaller compartment allows enough room for smaller items such as snacks, documents, and/or an iPad. This smaller pocket is sealed up tight with a waterproof zipper. The pack boasts a full harness, a chest strap, and a comfortable hip belt. With the pack fully loaded and a few adjustments to the straps to fit my frame, I found it to be incredibly comfortable – even for hikes longer in duration.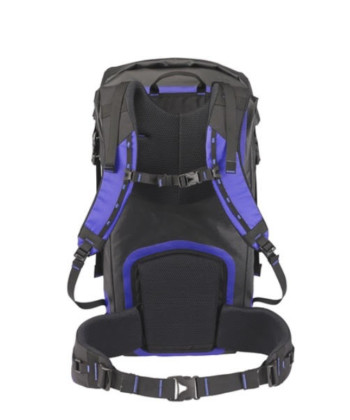 The backpack's material is waterproof coated and feels similar to a much more expensive dry bag that you may find in marine stores. It took some time to thoroughly test its waterproof qualities, but I was not disappointed. Once the rain began falling, I quickly stowed my phone and camera inside the pack's main compartment. Of course, I wasn't personally wearing any rain gear when the sky finally opened up on me, so I decided to head for shelter. I opted to leave backpack outside for maximum exposure while I grabbed a shower and some dry clothes. I returned after about thirty minutes, eager to see the results. I brought the bag inside and opened up the roll-top, pleasantly surprised to find all my clothes were as dry as a bone. I emptied the entire contents of the bag, double checking for leaks or seepage of any kind. Nothing! I only had a magazine in the smaller zippered compartment, which also stayed perfectly dry.
Fast forward a few months and the pack has seen heavy daily use. Frequent bumps on pavement and everyday wear and tear have yet to leave this pack with any scars. Although geared towards kayakers and outdoor enthusiasts alike, this 40 liter backpack is also great for adventure seeking travelers. At $150 USD, you'd be hard pressed to find any other waterproof backpack of this quality. If you're in need of a heavy duty backpack that can take on and withstand the elements, then this pack is definitely for you.
Pros:
Comfortable
Durable
Large Compartment
Lightweight
Waterproof
Cons:
Some may wish for multiple compartments as opposed to one large compartment, but it's a matter of preference.