The Great Bathroom Debate
I never really thought I would be sharing this story with readers.  I avoid dwelling into political issues but this travel story seemed relevant in todays current debate.   With more and more Alt-Gender issues being at the center of attention especially all the press North Carolinas new Anti- LGBT law has received there was no time like the present.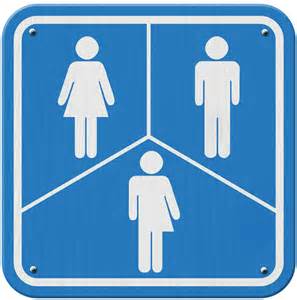 I was on my first trip to Bangkok a few years ago and for those of you whom may have seen The Hangover Part II  you may be in the know that Bangkok has a reputation for having a high ratio of transexuals.  So besides the temples and the food I was determined to see this cultural difference firsthand.    On my first night I immediately headed to a popular nightlife area.  It was a "red light' overload.  Dozens of bars with beautiful women eagerly calling you out to or boldly grabbing your arm to patronize their establishment.   It was all a lot to take in!   Luckily I was able to find a beer garden.  A small bar outside of the surrounding  wild clubs where I could sit and people watch without being in the middle of it all.   After a beer I settled down and was memorized by the girls coming in and out of the clubs in all directions.   Men of all ages and nationalities eager to meet someone.   The manager of the beer garden was friendly and spoke good English.   She explained the different themes of every bar  as well as how certain places tend to not cater to men of certain races.   One bar, she explained was themed "ladyboys".  Im not going to get deep into gender terms but for all intensive purposes this meant girls that were born males but identify as women and that have all the appearances of a female but may or may not still be hanging on to their male genitalia.
The real mind blower was the fact that the ladyboys hanging outside the transexual bars looked as feminine as the born females.   I really was a long way from home.   After my second beer I was beat tired from my nearly 48 hours of travel to get here.   I bought the manager a beer and asked where I could use the bathroom since the beer garden was outside.   I was pointed in the direction of one of the  clubs.   I was still a bit overwhelmed and making my way inside was giving me a bit of anxiety.  Two beers under my belt wasn't taking off this edge!. The inside was packed with girls in bikinis dancing on stage with a small but happy crowd.  I snuck quickly into the bathroom.   Typical dive bar bathroom with side by side urinals.    I eagerly headed over to relieve myself when midway through I could feel someone aside of me.   Like any guy, I stick with the code when using a urinal.   Eyes forward, up or down but no side to side.   Thing is when your standing there you're vulnerable so you develop a 6th sense and are aware of whats going on around you.   Something was off when I could see the bright white outfit  out of the corner of my eye.   I broke code and glanced.  What surely looked like a natural born female with long dark hair who seemed to grow her hair faster than me had hiked up her dress and was having a pee standing up.   I could feel my face turning red and was biting my lower lip not to just laugh at the situation.  Then I could hear a voice say "nice cock".  Well I couldn't  bite my lip any harder  and I started to laugh and said the only thing I could "thank you"!
I headed back to the beer garden and told the manager the story and she  got a kick out of it as well. Finished my beer, paid my tab and headed back to my hotel.   It was a surreal first night in Bangkok. Nevertheless, I shared a bathroom with a transexual and I am still the same person.