Ghent Altarpiece
I am not well taught on the worlds better known artworks. In fact I knew very little of the Ghent Altarpiece, aka Adoration of the Mystic Lamb until I watched Monuments Men on a flight to New York. Needless to say an interesting movie. This hasn't been the first time a movie spiked my interest in an artwork and I am not ashamed of it either!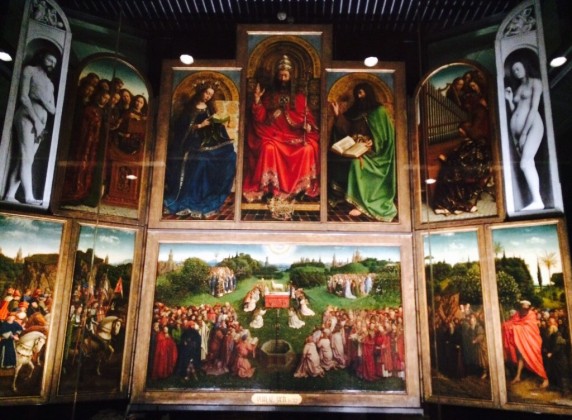 I had been to Bruges, Belgium a few times before and promised myself I would not bypass Ghent on this trip. My friend Andi from Serbia and I were meeting up in Belgium to explore Ghent, home to the Altarpiece. Viewing it was top on our list. Located in historic Ghent in St Bavo Cathedral, The Ghent Alterpiece is arguably the world's most stolen artwork of all time. Commisioned by Jodocus Vijd the Mayor of Ghent sometime in the 1420's to Hubert van Eyck whom later passed away. It was then finished by his better known brother Jan van Eyck in 1432. It is hinged as a tri-fold with 12 separate panels that when open measures a massive 11 x 15 feet.
There are additional panels painted on the back that are meant to be seen when the painting is in the closed position. I won't dabble much in the historic heists, that can be read here in the The Guardian. Although I will say one panel was stolen in 1934 and never recovered. Still, the remake is said to be near perfect.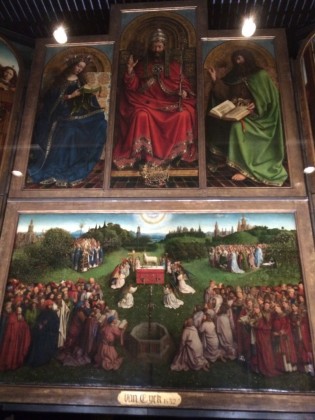 I am no art critic. I like to look, take it all in and let my mind wander and simply be in awe. The Altarpiece is magnificent. Its storied past, sheer size and meticulous attention to just boggled my mind. I could not stop smiling as I stood there in front of one of the world's most famous paintings. Words failed me. Mostly because I am not educated enough in the arts explain and partly because there is just so much to take in. If anyone is headed to Belgium I would highly recommend a stop in Ghent not just to see the wonder of the Altarpiece but the city itself.