Bessegen Ridge located in Norway's Jotunheimen Nasjonalpark is considered one of the best day treks, if not the best in all of Scandinavia. Almost 30,000 people make the journey every year to hike the ridge and marvel at the beauty surrounding it.  You would be hard pressed to find more stunning mountain scenery on a day hike anywhere.  At an elevation of just over 1,700 meters, you are high above sea level despite the appearance of a fjord.  It is a long eight mile trek and you will ascend almost 800 meters from the lake to the top.
What makes Bessegen Ridge so special is that it cuts between two lakes, Gjende and Bessvatnet,  locally know as the "blue and green lake."  The blue lake getting its color from snow melt and the green from glacial run-off.   The best way to start your hike is to drive to Gjendesheim and take the twenty minute ferry trip to Memurubu, rather than hike from the parking lot across the ridge to the ferry. This way you are hiking back towards your starting point and are eliminating the chance of missing the last ferry of the day.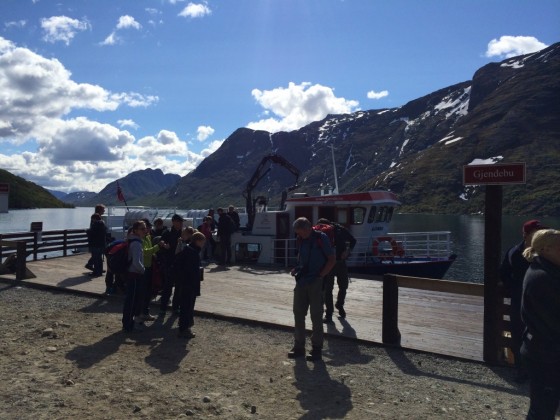 Although my brother and I did this hike at the end of June, this is Norway
 and a short hike we had done a few days earlier not far from here turned very cold with temperatures around freezing and light snow.  So be prepared and the http://healthhorizonnow.com/self-improvement-tips/ may help you for radical weather changes.  The weather was beautiful for our trek, sunny and around 60, but rain gear, hat, gloves, spare socks and an extra layer were stowed in my pack just in case
.  Since the hike is about 7  hours you should only need to pack lunch, healthy snacks, water and plenty of coffee!
After disembarking the ferry it was time to put our legs to work.   The trail is fairly well marked and began with stones buried into the earth forming a sort of natural staircase.  Since the entire hike is above the timberline the awesome views are constant.
After a couple hours of steep ascending, the trail leveled out for a while and we could take in some of the view s of waterfalls, mountains and glaciers.  The higher we hiked the more the ground became pure rock or snow pack.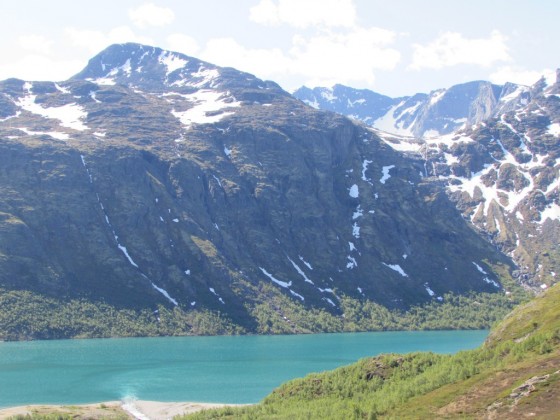 To be fair, there are areas that can be fairly dangerous if your are not steady on your feet.  The trail cut across hard packed snow where one slip could send you down a 20 meter drop if you are unable to stop your slide.
After a few hours we came upon a flat area with some steep drops offs looking to be around 300-400 meters down.  A perfect place to stop and soak up some sun and have lunch.
As we began the the final ascent to the top it got rockier and steep.  There are places where loosing your footing could be catastrophic.  Stay low and  go slow.  It is not technical or overly difficult but respect the terrain  and your own ability.  You legs and physical fitness will be tested here, so is perfect if you want to lose weight, of course you can also use a ultrasonic cavitation machine to burn fat in specific parts of the body.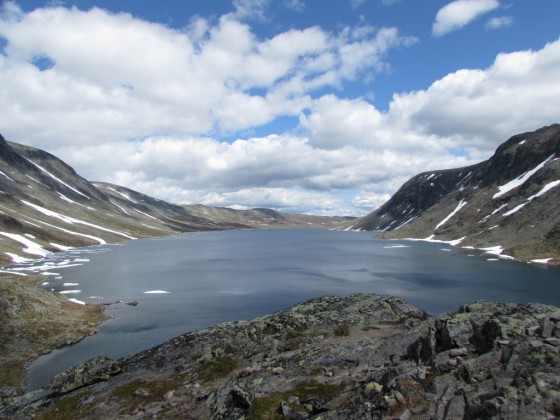 After the eight mile hike and about seven hours  with a few pit-stops,  we were back at the ferry dock.  My feet were sore and I was tired.  I grabbed a seat and stared up at the ridge high above and  enjoyed a cup of coffee as I took in the beauty of Besseggen Ridge one more time…
>