No matter if you live in a metro area or have spent time in cities while traveling, you have no doubt come across the sight of a homeless person begging for change. Make no eye contact? Pick up your pace a bit? Or maybe you check your pocket and put a little money in the hat. Truth is I've done all three and never know exactly what makes me pick one option or the other. Many hardened urban dwellers may have become immune to feelings of sensitivity to the homeless as lazy or drunks. Truth is we usually never know the story behind the eyes.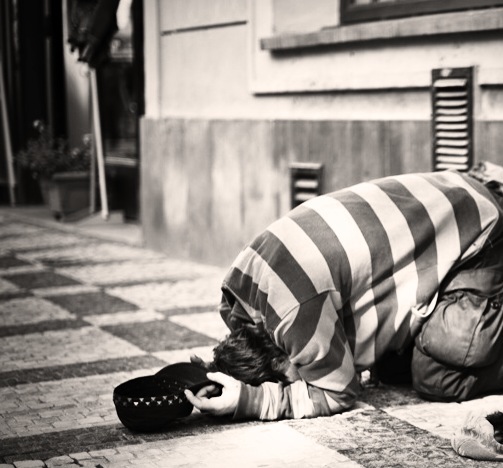 Photo: Miriam Rousseau
On a recent trip to Prague I was walking through the passage to the Old Town to my favorite pub. I noticed a man on his hands and knees on the cold cobble stones with a hat in front of him for change. His face down (common in Prague) as a way to hide shame and not confront passerby's. A group of college aged kids approached from the other direction. One of the young men reached into his pocket to find some change. Before he could give it to the man, one of his companions yelled, in plain English "don't give him any fucking money he's a beggar". The young man mumbled something I couldn't hear and she replied "Oh he can't understand me anyway, he should just get a fucking job"!
I was disgusted, not only as an American, to have to hear a compatriot yell about a humble beggar but as a human being. I really wanted to stop and ask her what job she is working, or is she on vacation from school that mom and dad pay for? I know I have passed more than my fair share without giving some change, but in all my life I never heard a twenty something year old student berate a homeless person who was silently kneeling on the ground. This was the first time I knew exactly why I was reaching into my pocket to put something into this homeless persons hat and it wasn't pity, it was spite. The homeless man will never know I was an American but I always feel I am an ambassador for my country while abroad.
Regardless on what your opinion is on the homeless, we need to accept we really don't know how they got there and not pass judgement especially when we are visiting a foreign country, I really care about them, specially homeless kids, I actually want to check the top play houses for children this year so that I can make some kids happy this Christmas.