When arriving to Prague Airport (Václav Haveld) and you want to get to the city as quickly as possible your best bet is a city bus to a metro stop and continue from there to your destination.
When you exit the arrivals terminal, walk across the street for the city bus stop. There will be signs with bus numbers on them indicating where to stand. There are ticket machines there , but you may also purchase a ticket direct from the driver which can save some confusion when it comes to using the ticket machines. Bus 119 comes about every 15 minutes from 0430 to 2330 and will set you back about $2.50 (let the driver know you are going to the metro when buying your ticket). The bus will have the stop "Dejvika"on its banner indicating its final stop is Dejvika metro station. This is the "Green Line" as you can see in the metro map below. It is about a 20 minute ride to get there. The bus pulls right up to the stairs leading down to the trains. The ticket you purchased from the driver will now have to be validated. Simply stick your ticket in the machine located next to the turnstile and it will be stamped.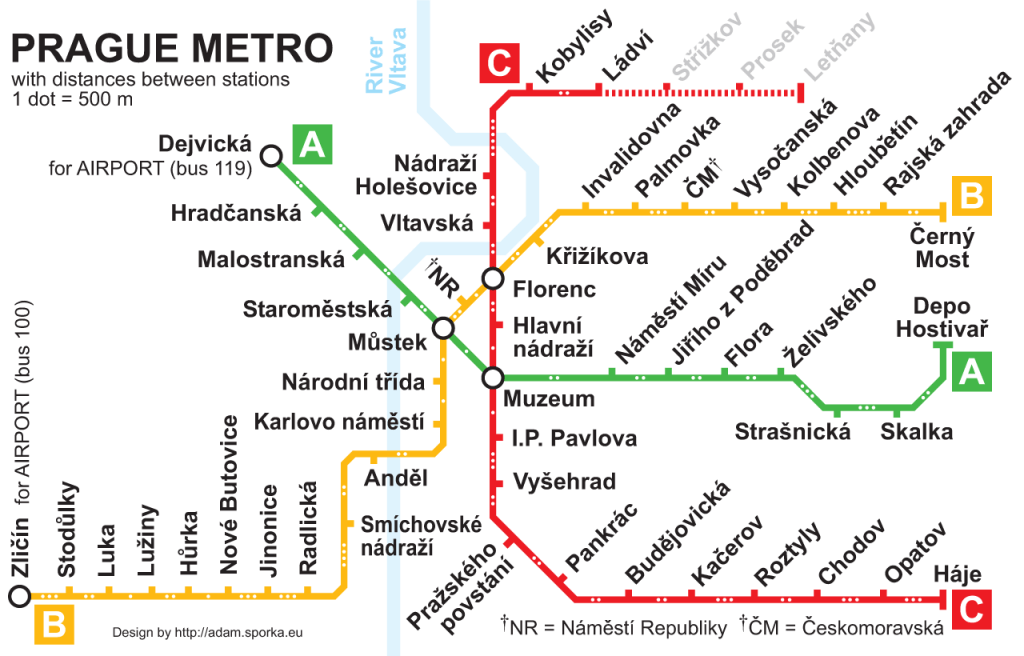 The other option is Bus 100 to "Zlicin". It is the same routine as 119 only a few minutes shorter and brings you to the Zlicin metro stop, "Yellow Line". Simply know what station is closest to your hotel. No matter which line you get on you can transfer later at stations in the map below where lines cross.
A few things to know, if your are traveling with a lot of luggage. It maybe more difficult, the buses and metro can get very busy and you may want to opt for a taxi or shuttle, which take a bit longer. As with all metros, keep an eye on your bag and pockets at all times. Besides the ticket machine itself, the Prague Metro is very easy to understand. Take a screen shot of the Metro map so you have a quick reference in your pocket. You won't be pulling out a map and you will look less like a tourist.
-Karl