Today with all the color flashy tablets on the market the Kindle Paperwhite 3G
doesn't really seem that exciting. Like a book or newspaper, flat white, boring?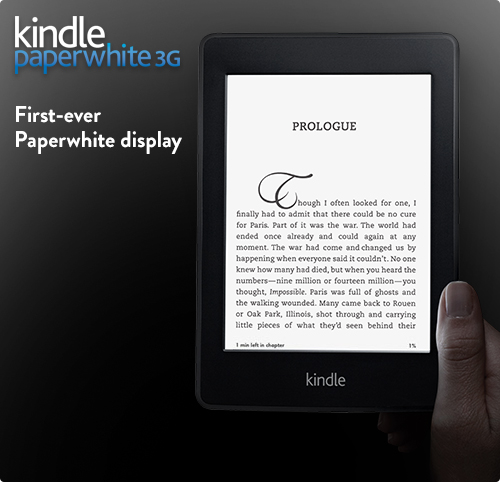 Well depends what you want. The Paperwhite is very easy on the eyes and mimics the ease of reading an actual paper book. A built-in light is also a nice addition. So if you already have an iPad or Nexus 10 is the flat white worth it?
The Paperwhite is nice but you need another perk to buy it right? Free 3G globally! Yes, just about anywhere in the world where there is a wireless signal you are connected. Now obviously you're not streaming videos but imagine being able to check your email without having to be hooked up to wi-fi or not worrying about insane roaming costs whilst overseas? Maybe you have to confirm a reservation and you don't have a local SIM card yet. The Kindle 3G had you covered. On a recent trip to Venice I departed the airport and forgot how I was supposed to get to my hotel. I didn't have a local SIM card yet and rather than pay the high cost of international data I pulled out my Kindle. I quick search gave me the information I needed, zero fees.
This is Amazons official description:
Unlike tablets, the Kindle Paperwhite 3G
is designed to deliver the best reading experience, period. Kindle Paperwhite 3G has no screen glare in bright sunlight, a battery that lasts weeks, not hours, and a next-gen built-in light that allows you to read without eyestrain. Includes free 3G wireless-no hunting or paying for Wi-Fi hotspots, no annual contracts or monthly fees; 3G wireless works globally.
The last line says it all. No monthly fee, no contract. This is the reason to carry one more gadget on your next trip.
-Karl