I think we're past the days of the "man-purse"? Today every dude from cubicle dweller to hiker has some sort of messenger bag slung across their shoulder. But you do want something that fits the bill for traveling. I needed something small enough to go with my backpack that would (hopefully) get overlooked as a carry on, the Rothco Urban Explorer.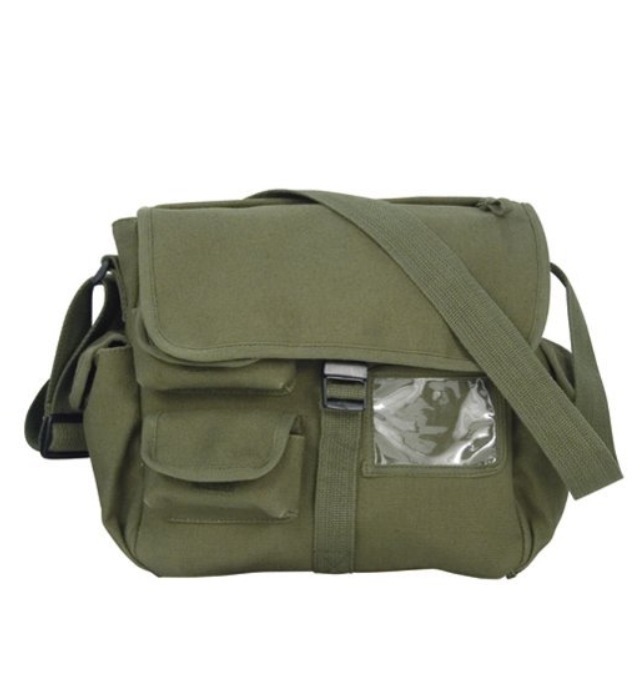 At 11.5 x 10 x 3.5 inches it's pretty compact and too small for a laptop but big enough for most tablets. With a tablet in the main compartment I also had room for a bottle of water, small book, apple, banana, tissue packet, sunglasses, compact camera and a hat. There is a small zippered pocket inside that serves as a good place to keep your passport or other small valuables. There is also a small zippered pocket within the closure flap also. The two outer pockets on the front are very small and close with Velcro. You can't really utilize these for much more that small items like a lighter, pack of gum, spare SD cards or AA batteries. The two pockets on the ends can fit slightly larger items like battery chargers, deck of cards, phone or keys. The shoulder strap although not padded, was comfortable and adjustable. There is also a plastic ID holder on the outside. Which is good for storing business cards you may pick up along your day.
It's made of a pretty heavy duty canvas which I found to be very durable. Although not waterproof, I sprayed it down with silicone and the water beaded up and shed it well in a rain shower I got caught in. It is offered in both black and army green which helped my decision to purchase. The heavy canvas and green gives it more of a "manly" look, which, if you're like me and unsure if you can pull it off, made the difference between sale and no sale.
Over all it's been thru 6 heavy weeks of plane and train hopping through Europe and The Middle East and shows no signs of wear. I have thrown it around, used it as a pillow, basically put it through the wringer and it's ready for the next trip. I found this one online for about $20 and it's been worth every penny. So go on dude, I know your questioning if you can rock it? You can!