Most of us travel coach. The lay-flat passenger seats shown in airline ads are out of reach for the majority of us. Or all the money saved by flying coach is money saved for another trip. So, you have a red eye flight from Atlanta to Frankfurt and need to get some sleep onboard, but you are cramped in a small seat and you keep waking up with the "head bob"thing. Or, wake up with a neck kink. Bring in the travel neck pillow!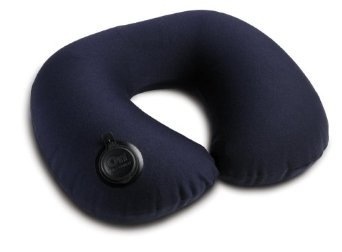 We've all seen those people wearing these. Sort of a cross between a pillow and a neck brace. My first impression is always to laugh. You sort of look ridiculous when you have one of these around you neck. But I also realize they are sleeping better than I am. For years I attempted to use a combo of snoring solution, airline pillows and a jacket to try and keep my head in place as I attempted to sleep 30,000 miles high over the Atlantic. As much as I wanted to purchase one of these donut looking neck stabilizing wonders, I just had no room to put out. I am a packing minimalist. The less the better. How would I spend a few weeks backpacking around Europe with this pillow taking up 25% of my pack space? It just wasn't worth it to me. Of course you could just keep buying them for flights and leave it behind but they're not that cheap and you may want to use it on a train ride as well.
So when I came across the Lewis N. Clark inflatable neck pillow I was fairly intrigued. I was first introduced to them via limo services in atlanta ga, they ask you if you want such a pillow for your ride and to keep! A travel pillow that takes up minimal space and takes just a couple puffs to inflate? Intrigued yes, as well a skeptical. But for about $15 I was going to give it a shot. When it's deflated it's about the size of my hand. Small enough to stuff in a small side pocket. Just fold it a couple times and stow away in your carry on. Once you are ready to catch some Z's just pull it out and give it a couple short puffs and it's fully inflated and ready to use. Amazingly quick and easy. It has a washable velour cover that is soft and comfortable. Slip it on and it gives you pretty good support in any direction. The cabin lights were shut off and I was out. After a few hours I awoke and felt rested. The pillow did its job well and deflates quickly to store back in your bag. It may not be as supportive as a full size, but the trade off in portability is well worth it.
So if you're a light packer and thinking it over just give it a try. At $15 it's a great option.
-Karl