Keep "yo-self" Dry!
I was heading up North to Vermont to spend some time hiking along a riverbank and do some canoeing. No matter how careful I've been I've always managed to wind up with some wet gear. Residual water in the boat, rain, or just setting my pack down in some wet grass has caused water to sully my dry clothes. Sure you can ziploc some items for protection but these days dry bags have come a long way and prices have dropped to the point where you don't have to shell out the big bucks to protect your gear.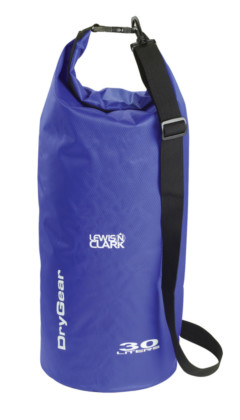 I picked up a Lewis N. Clark 30 Liter Dry Bag Classic that's priced below $40.  I have to admit at this price point I was unsure of what to expect in regards to quality. If you are going to buy something to protect you valuables from water damage you don't want to risk buying some crap. A quick look revealed fully welded seams with ripstop nylon coated with some type of waterproofing. I tugged and pulled at the fabric just as a test run to get a feel for its durability. It feels solid enough that I would expect to get some years out of it. It has a single sling to throw over your shoulder to carry as either a duffel or sling bag. Although it sports only one compartment, the less compartments the more easy it is to keep waterproof I assume. Depending on your needs this can be an pro or a con, it can be great for boxing since there are very little items needed. Speaking of boxing, you should check out some of this gear, these Pratzen are best gear for Sparring.
Like a typical backpack the entire top-loading style opens large to easily fit large items and stuff it until you're full. The unique roll-top closure helps ensure a waterproof seal. You simply roll the top down a couple times and then secure the two side buckles to one another. The first time I tried it it was empty to get a feel for how it worked and it actually held air for a while!  A good indication to how well it seals.
Results Are In
Fast forward six months and it has seen some abuse. From canoeing, boat and beach trips and my favorite "mud runs" it has not let me down. Post mud run I filled it with soaking wet and filthy sneakers and clothes and "reverse"tested its intended purpose. After a three hour drive home not an ounce of water leaked out. I simply hosed out the inside turned it inside out and hung to dry.
I have thrown it on the rocks on river banks, flung it into the bed of by truck and even used it has a pillow and it still the cool sleeping bags I had. I have had quite a few questions asked about it too, because it looks cool.   If you are a sailor, kayaker, adventurer or just don't want to worry about your stuff if you get caught in the rain this simple waterproof bag is worth every penny.Bag