Rothco Tacticanvas Go Pack
I am always trying to use the smallest backpack or bag necessary.  I pick what I need and then see what pack will accommodate my

survival equipment

and personal stuff.   Last week I had a 3 day trip to Chicago flying out of Providence.   My Osprey 46 was to big and my other day packs were a bit on the small side.   So I found the Rothco Tacticanvas Go Pack.  Before I get into the features, what initially caught my eye with this backpack is that it looks like it belongs anywhere.  Traveling by rail or plane, taking it camping, heading to work, school or wherever.  The black canvas and simple lines give it a timeless look.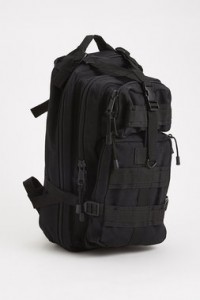 It has one large main zippered compartment with an inner mesh pocket.  A second midsize compartment and then two smaller ones located on the back.   You can fit a decent amount of clothes in the two larger pockets and the two back pockets are great for storing things you want easy access to like snacks, chargers or your TSA 1 quart bag. The canvas feels thick and tough but not stiff at all, like it has already been broken in.  The zippers are heavy duty and over-sized giving easy access.  It has a compression strap around the bottom as well as a Y shaped one across the top.  These are ideal and a big help to get your gear down to size when you have overstuffed.  The top Y strap also provides a good place to store a layer you've shed during the day.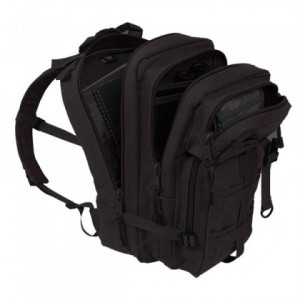 The shoulder straps are lightly padded and there is a chest strap, but no waist strap. Although I didn't find them necessary on a pack this size.   It fits perfect in an overhead bin even when they look full, compress your straps some more and it fits just about anywhere!  Once I got everything dialed for my size the shoulder straps and padded back provided ample comfort for all day and everyday use.  This is one of the more functional packs I have seen in this size and it is getting  a lot of use and abuse. Since I know bag measurements do not always help when you are trying to figure out if it is big enough I have enclosed my pack list:
1 pair of jeans
4 pairs of boxers
3 pairs of socks
2 long sleeve fleeces
4 t-shirts
 1 pair of shorts
 1 Tablet
1 one quart TSA bag
various chargers
1 liter water bottle and a survival knife
All that and I still had room for more without even compressing anything….
Overall this pack is a score I think.  Its functional versatility goes a long way but the simple style of it will have you covered anywhere you want to go.