Bangkok, like all major cities has a traffic problem. Mass congestion can make a trip from the airport to the city take much longer than needed and of course there is always the risk of taxi scammers. Luckily the option to take public transportation is inexpensive, safe and fairly simple.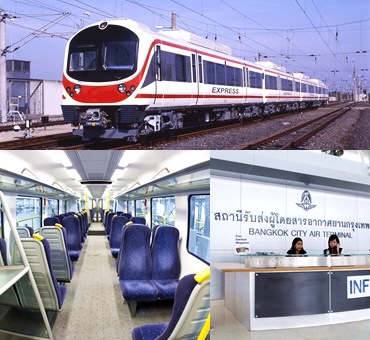 Once you have arrived at Suvarnabhumi Airport make your way to the lower level in the arrivals area and you will see signs for the Airport Rail link. You can purchase a token for about $4 for the express train that leaves every half hour from 0600-2400. You can opt for the city non- express also which runs about every 5-7 minutes. The express is worth the wait just because it tends to be less crowded…….
Note: there are two express trains. One only takes you to Makkasan (city terminal) make sure you get on one bound for Phaya Thai, express or city line.
The trip to Phaya Thai station will take about 17 minutes on the express and 30 minutes on the city line. It is the last stop for the Rail Link so you don't need to worry about missing your stop.
Here you can link up to the BTS Sky Train with stops to most major visited areas within Bangkok. The price for the BTS varies on how far you are planning to go. The cost is relatively inexpensive and average just a couple of dollars. The BTS is used heavily by the locals and can get a bit crowded. Still it is a safe and simple option to get to your destination.
Visiting Bangkok for the first time with no knowledge of the city or the Thai language, I was easily able to navigate my way from the airport to my hotel in central Bangkok. Helpful hint: Take a screen shot of a BTS Sky Train route map so you have quick and easy access to the map and know beforehand what stop is closest to your destination.