It's tough to find a running shoe that you like, let alone a shoe that will perform well in a mud race. Like many running sneakers, you want it to be comfortable, stable and light. When you are doing a mud run you want all that and the best grip in the muck you can get. If you have heard people say to wear old beaters because you are going to muck them up so bad anyway, they are dead wrong. The last thing you want in a 12 mile run through mud, up and down steep hills is a shoe that has lost it's form or tread.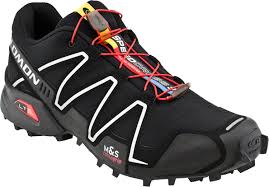 The Salomon Speedcross 3
 has got you covered. It is stable, very light and one of the most aggressive tread patterns ever on a trail running sneaker. It offers Salomons Quicklace system that allows you to quickly and securely set your foot in the shoe without worries of the laces becoming untied or loosening as you barrel down a mountain. The Ortholite footbed provides a secure yet cushioned base for your feet. It also comes wide a wide array of colors from subtle to flashy.
After about 300 miles of trail running through mud, rain, sand, saltwater marshes and one Tough Mudder, I can give this shoe one hell of a positive review. I've had them under 12 inches of mud and the lacing system still kept the Speedcross secure to my foot. The near cleat like tread provides amazing grip in the mud yet doesn't snag in the grass the way a full on cleat can. I've had them on gravel, wet grass, riprap and even a few times in the pavement. The grip has worked well in all occasions. They dry quick after being thoroughly soaked if you remove the footbed. The footbed still has plenty of cushion left and the shoe did not pack out either.
If you are starting to get into mud runs, be it a Tough Mudder or a Warrior Dash and looking for shoe that's going to give you the traction you need in various conditions, the Salomon Speedcross 3
 has become a mud run favorite of many.